UK Protests to Spain over Gibraltar Navy Incident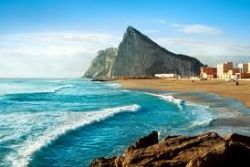 The UK has protested to Madrid further to last week's incident off the waters off Gibraltar, according to London's minister for Europe.
David Lidington, the UK's Minister for Europe, presented a written statement to Parliament concerning the Oct. 30th episode, which occurred during a routine transfer of personnel between Royal Navy vessels in British Gibraltar Territorial Waters.
Upon observing a Spanish Guardia Civil vessel approaching at high speed, the vessels of the Royal Navy and the Gibraltar Defense Police complied with the procedures for incidents of this type and formed a protective barrier, the minister said.
The Spanish vessel "conducted several dangerous manoeuvers near to the British vessels" and a minor collision took place, he said.
"There was no damage to either vessel, no shots were fired and there were no injuries," Lidington told the British Parliament.
The British government "raised this at a high level with the Spanish Ministry of Foreign Affairs, making clear that the actions of the Guardia Civil were unacceptable and dangerous, with the potential to cause serious injury or damage," he said.
"Once the full facts of the incident had been established, a formal written protest was also issued to the Spanish Government in Madrid," Lidington said.
Read previous news articles concerning the recent conflict over Gibraltar by clicking the link > HERE <