Spain's bailed-out Bankia posts bad debt turnaround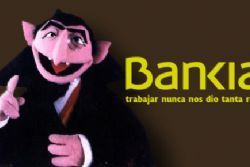 Spain's biggest bailed-out lender Bankia on Monday said bad debts fell in the first quarter of the year, while net earnings on loans grew 36% from a year ago, after a major restructuring.
The bank's recovery has made it a symbol of a turnaround in Spain's financial industry and the broader economy after a property market crash and a prolonged recession that led banks such as Bankia into state rescues.
The government began selling its majority stake in Bankia in February, less than two years after its bail-out and turning a small profit. Spain has pumped €22.5 bln into the bank, which is still about 61% state-owned.
Like its Spanish peers, Bankia, the country's fourth-biggest lender, now has to show that it is on a sustainable path to recovery, after cutting over 1,000 offices and thousands of jobs while cleaning up its books.
Bankia's interest income (NII), or earnings on loans minus deposit costs, rose 36% to €698 mln in Q1 compared to a year earlier. That was slightly below the €703 mln forecast by analysts in a Reuters poll.
Many Spanish lenders have begun to show improvements in NII as a deposit war tailed off last year and as funding costs fall, and are now competing to lend to small companies, where they typically make more than on home loans.
Bankia's lending book is more weighted towards lower-yielding mortgages than many of its peers.
The lender's bad debts as a percentage of total credit dipped to 14.3% at the end of March, from 14.7% at end-December.
That echoed a step-change flagged by rivals such as Caixabank and Sabadell, which said last week soured loans were waning as Spain's economy returns to growth after a deep recession.
Bankia's bad debts are still higher than the sector average of 13.4% in February, however.
"These results confirm the bank is on the right path," Bankia Chairman Jose Ignacio Goirigolzarri said in a statement.
The bank said its net profit for Q1 was €187 mln, more than double what it made a year ago but also below analyst forecasts for a €197-mln net income in the period.
Recommended Reading :
* Spain's bailed-out Bankia plans shareholder payout in 2015