Costa Coffee to expand into Spain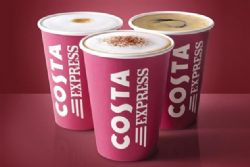 Costa Coffee, Europe's largest coffee shop chain and part of Whitbread PLC, today announced plans to expand its presence into mainland Spain.
Over the past 5 years, Costa Coffee has grown rapidly, opening on average 150 international stores every year. At present Costa operates across 30 countries and has more than 2,800 stores globally, covering operations in Europe, the Middle East, North Africa, India, China and South East Asia.
The expansion into Spain sees Costa enter into two new regional franchise agreements with Sandpiper Iberia and The Coffee Company Spain Limited adding to their current Airport partner, Airfoods. The first Costa Coffee store outside of the airports will open in Malaga within the next two months.
Recommended Reading :
* How NOT to drink coffee in Spain
* Spain sees closure of 27 bars per day during crisis