Migrants breach border of Spain's North African enclave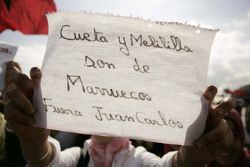 Some 140 undocumented Sub-Saharan immigrants on Thursday managed to get over the border fence and enter this Spanish enclave city on the North African coast, authorities said.
The 140 migrants are part of the group of around 500 people who early on Thursday morning tried to get into the city of Melilla from Morocco, according to the Spanish central government delegation here.
The break-in is the largest entry of immigrants into Melilla since March 18, when a record 500 Sub-Saharans managed to gain access to the city.
For months now, Melilla has been experiencing extreme migratory pressure that has overwhelmed the Temporary Immigrant Housing Center, or CETI, where more than 1,900 people - almost four times its ideal capacity - are living.
Another group of somewhat more than 150 migrants who tried to enter Spanish territory on Thursday remained stuck up on the outer fence or between the two fences, the one on the Moroccan side of the border and the one in Melilla, the Spanish delegation said.
The immigrants later climbed down off the fences, many of them after remaining hanging there for up to six hours.
Those who were found on the Spanish side were turned over to Moroccan security forces.
While authorities were trying to contain this group of people, another 200 or so tried to break through the fence at another spot farther north along the perimeter, but they were finally repelled with the help of Moroccan authorities.
Twelve officers of Spain's Civil Guard were injured in the two massive stampedes, with three of them suffering significant injuries.
Read previous news articles concerning the sub-Saharan migrants swarm on Spain's North African borders by clicking the link >HERE<