Spain's PP to lose share in EU elections : Poll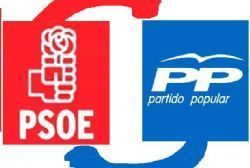 Spain's ruling Partido Popular would win the elections for the European Parliament (EP) with a significant decrease in the share of their votes, a survey said Thursday.
According to the first opinion poll of the campaign published by the Spanish Center for Sociological Investigation (CIS), the PP would only win 33.7% of the votes, and the main opposition the Socialist Party (PSOE) would win 31% of the votes.
Together the country's two major parties would only allocate less than 65% of the total votes, comparing with the 81% of the votes they received in the last EP elections 5 years ago.
As a result, both parties would lose seats in the EP on May 25, with the PP seeing their number of representatives fall from 24 to either 21 or 20, while the PSOE would see their numbers cut from 23 to 18 or 19.
One important fact to emerge from the CIS poll, however, is the high percentage of voters who have yet to decide who they will cast their votes for.
Among questioned, 49.3% said they didn't know which party they would vote for, which means that in the remaining two weeks until the campaign closes, there could be important swings in voting intentions.
Recommended Reading :
* Just 1 Month left to register for European elections
* Expats do not feel valued enough to vote in UK elections