Telefonica signals another tough year as earnings fall short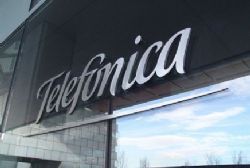 Spain's Telefonica set the tone for another difficult year as it missed Q1 earnings forecasts, hit by falling sales in Europe, weaker currencies in Latin America and the sale of its Czech unit last year.
Europe's biggest telecoms firm by revenue is, like many rivals, betting on costly fibre optic networks and packages of services combining mobile and fixed-line phone, high-speed internet and TV to attract customers and boost growth in future.
For now, however, the investment is pressuring margins and driving down profits, at a time when Europe's economy is struggling to recover from a prolonged period of economic weakness and growth in many emerging markets is slowing down.
Deutsche Telekom on Thursday reported a 4% drop in quarterly core earnings, the same as posted by France's Orange last month.
Telefonica said its Q1 sales dropped 13.5% to €12.23 bln, while operating income before depreciation and amortisation (OIBDA) fell 14% to €3.93 bln and net profit was down 23.2% to €692 mln - all missing analysts' forecasts.
Analysts said its underperformance was due to its exposure to a still faltering Spanish economy, and to Latin America, where it makes more than half of its revenues but where economic growth has been slowing and currencies weakening.
"Telefonica reported Q1 results 1% shy of expectations ... with trends which are taking longer than expected to stabilise in Spain and Brazil," said Oddo Securities analysts in a note to clients.
"Results are somewhat mixed in Spain and Brazil, good in the UK and uninspiring in Germany and Latin America. As expected, the group reiterated its guidance for organic growth and limited margin erosion. First quarter nonetheless reflects a slight lag on these targets."
At 0855 GMT, Telefonica shares were down 2.8% at €11.705, within a European sector down 0.6%.
On the plus side, Telefonica said net debt came in at €42.72 bln, already meeting a year-end target of below €43 bln, offering room for manoeuvre in the ongoing consolidation of the telecoms industry worldwide.
Telecoms firms are looking to take advantage of low interest rates to increase the services they offer and build economies of scale. However, regulators in many countries are wary of a reduction in competition.
Telefonica is trying to win approval from Europe's antitrust authorities for the acquisition of E-Plus in Germany, while in Brazil, the competition regulator has been seeking to loosen its grip on the country's telecoms market.
Earlier this week, Telefonica also agreed to buy the pay-TV business of Spain's Prisa, although that deal too faces regulatory hurdles as the company would control more than 80% of Spain's pay-TV market after the deal.