Spain threatens to tax car-sharing schemes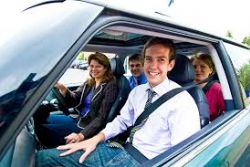 Spain's Ministry of Public Works has told users of car-sharing services that they will be committing a "very serious infraction" should they not have their official paperwork in order, and could be facing fines of between €401 and €600. The ministry also warned that, under Spanish law, platforms that "promote, offer or provide these services" without the appropriate administrative authorization could be fined anywhere from €4,001 to €6,000. In exceptional cases the fine could reach €18,000 for repeat offenders.
"The ministry would like to issue a reminder that the Terrestrial Transport Law (LOTT) requires any persons or companies that transport passengers in private vehicles in exchange for economic payment must first be authorized to do so by the Administration," the statement from the department reads. The reminder from the ministry has been issued amid protests by taxi drivers over the arrival of car service application Uber, which offers users an alternative to traditional taxis.
While Uber is already in use in Barcelona, it is not the most-used service of its kind in Spain. The scheme requires some form of payment in exchange for transporting passengers, something that is prohibited under Spanish law. In comparison, rival service Blablacar matches up private citizens who want to share a vehicle or costs, and as such is not affected by existing laws. It currently has the most users in Spain.
According to the Ministry, official authorization is necessary to "ensure that the service received by users meets adequate conditions of security and quality." These circumstances, it continues, "are not possible to prove when the supplier of the service has not proven to the Administration that they meet the legal requisites […]."
The ministry stated that it would work in conjunction with Spain's regional governments to "carry out all inspections" necessary when it becomes aware of services that do not meet legal requisites.
The ministry has also said it has alerted other state departments – those covering employment and taxes, for example – of possible legal infractions relating to car-sharing services.
Recommended Reading :
* 20 New rules for Spain's road users