Morocco admits "dysfunctions" led to immigrant invasion of Spain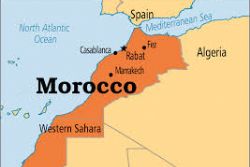 Morocco admitted on Wednesday that the huge influx of illegal African migrants from its territory across the sea to Spain over the last two days was the result of "dysfunctions that may have happened and that will be corrected very quickly."
The country's interior minister, Mohamed Hasad, also assured that he was in "regular" contact with his Spanish counterpart, Jorge Fernández Díaz.
Moroccan security forces resumed patrols along the country's northern coast on Wednesday morning, say Spanish coastguard sources. The Rabat authorities had not been sending out police or navy patrol boats along the maritime border since Monday, according to Frontex, the EU agency for external border security, a fact that has been blamed for the recent arrival of illegal African immigrants to the shores of Cádiz in the kind of numbers that have not been seen in several years. On Tuesday alone 920 people departed from Morocco in 94 small inflatable boats, according to the Efe news agency.
The government's delegate in Andalusia, Carmen Crespo, said the Spanish coastguard and security forces who picked up the migrants were "heroes, the only thing driving them is saving lives."
Speaking to Cadena SER radio network on Wednesday morning, she added that there is a joint and permanent commission with the Moroccan police. "The control of immigration is vital," she said. "When there is thorough surveillance the situation is better."
As a result of the situation seen over the last two days, Spain's Interior Ministry has decided to reinforce the police presence in Algeciras (Cádiz), and in Spain's two North African exclaves, Ceuta and Melilla, with 500 more officers.
The ministry said it had "maintained close contact with the Moroccan authorities over recent days to find the fastest solution possible to resolve the situation," attributing the influx to the recent good weather conditions alone.
Moroccan security forces continued to collaborate with rescuing immigrants in the Strait of Gibraltar and controlling illegal movements around the Ceuta and Melilla borders, said the ministry, without admitting the chaos seen in recent days.
Recommended Reading :
* 267 Migrants rescued from 28 boats in the straits of Gibraltar
* More than 1,000 would-be migrants attempt Melilla fence-jump