Murcia Opposition Parties slam PP Management of Corvera Project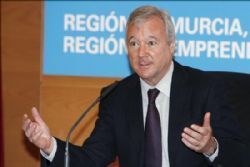 Murcia's PSOE and IU-Verdes opposition parties have criticised the parliamentary address on Corvera Airport given by the regional Minister for Public Works, Planning and Development yesterday.
The hearing was called by the region's opposition for Manuel Campos to explain "The ridiculous public spectacle and farce" surrounding the situation at Corvera Airport.
The deputy spokesman for the regional PSOE, Joaquín López, commented that the prolonged inability to open the facility was damaging the image and reputation of the region and harming tourism in the area.
In his opinion, the differing positions between the regional and national governments, along with AENA and the Ministry of Defence was resulting in little agreement being made concerning the compensation for and closure of San Javier airport, and the completion of the newer facility.
Lopez went on to criticize both the previous president of Murica, Ramon Luis Valcarcel, and current President Alberto Garre for "Poor management" of the project, which is costing the region thousands of euros every day.
"This is yet another example of the regional lawlessness we have to suffer in Murcia, and the regional government is the main reason why we don't have an airport".
For his part, the parliamentary spokesman for the IU-V, José Antonio Pujante, believes that Corvera can become a "political graveyard" in light of the statements of Defense Minister Pedro Morenés "washing hands and leaving Campos, in a bad place", and that "Campos; strategy has also contradicted statements made by the regional president".
Pujante also stressed the need for clarification on how the region has financed the loan guarantee of EU182 Mln with public funds.
Recommended Reading :
* Corvera Airline deadline slips again, Airline confirms interest