Santander's profits jump, raises cost-cutting target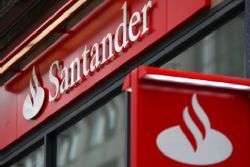 Santander, the euro zone's biggest bank, reported a sharp rise in Q3 profits on Tuesday and said it would be cutting costs more aggressively to further improve margins.
Spain's largest bank by market value weathered the worst of the financial crisis and property market crash at home through earnings overseas, though a faltering economy in Brazil, one of its biggest income drivers, has weighed recently.
Now under the direction of Ana Botin, who was appointed as chairwoman in September after the death of her father, Emilio, the bank's net profit in Q3 increased 52% to EU1.61 Bln beating analysts' forecasts as losses on problematic debts receded.
But the increase was helped by higher income from trading bonds and masked a slowdown in the pace of the recovery in its core lending business revenue, or net interest income (NII), to EU7.47 Bln, short of expectations.
NII is a closely-watched measure of earnings on loans minus deposit costs, and while it has been steadily rising at Santander quarter on quarter this year, growth slowed in the July-September period to 1.4%.
In Spain Santander's net income more than doubled from a year ago in the January-September period to EU822 Mln but lending was still down 5%, echoing falls across other Spanish lenders and pointing to a slower economic recovery than some had initially expected.
The bank's shares were up 0.4% at EU7.017 per share at 1203 GMT, when the Stoxx Europe 600 banking sector index .SX7P was up 0.04%.
"Underlying divisional trends are less positive ... with results heavily supported by trading income," analysts at Credit Suisse said in a note.
Santander has also benefited from the quicker economic recovery in Britain with the UK unit, run by Ana Botin until her promotion, boosting net profits in the first nine months of the year by nearly 50% to EU1.2 Bln. But it said competition for mortgages in the UK had intensified, which was likely to pressure margins next year.
Santander UK, which now accounts for 20% of the group's net income, is expected to be spun off and listed in the next 18 months.
Group net profits for the nine months were up 32% at EU4.36 Bln. Volatile emerging market currencies weighed on earnings earlier this year, though this effect has lessened.
COST-CUTTING TARGET RAISED
Santander said it is now aiming for EU2 Bln of cost savings across the group by 2016, up from a previous goal for EU1.5 Bln, after exceeding this year's targets.
The bank's costs fell 1.8% in the first 9 months of the year, though they rose in Q3 from the previous 3 months.
In particular expenses spiked in the US, Chief Executive Javier Marin said, adding the bank had added staff there and was adapting to new regulatory requirements.
Santander has to submit a new capital plan to U.S. regulators in 2015, after an earlier one was rejected this year by the Federal Reserve.
Like most of its Spanish peers, Santander last month passed the ECB health checks on the euro zone banks' balance sheets without needing extra capital.
It said, however, that its core capital solvency ratio at end 2014 under "fully-loaded" Basel III criteria -- which takes into account changes banks have to make under strict new rules by 2019 -- would be lower than expected at around 8.5-8.6% of risk-weighed assets.
That was due to several recent acquisitions, Marin said. That leaves it below most top peers in Spain, however, with BBVA's fully-loaded ratio standing at 10.1% at the end of September.
However, Santander said it would issue more bonds that can convert to equity and that it was comfortable with its capital levels.
Recommended Reading :
* Spain's Banks should pass ECB stress-test 'without difficulty'