Spanish Attorney General Files Suit against Catalan President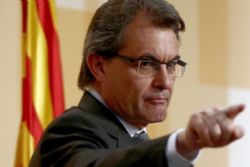 The Attorney General of Spain today filed a complaint against the President of Catalonia, Artur Mas, for the alleged crimes of disobedience, trespass, embezzlement and usurpation of functions.
The office also targeted Catalan Joana Ortega and Vice Minister of Education Irene Rigau, is founded on the realization in that region last November 9 in a query independence, despite the suspension of the Constitutional Court.
Prosecution sources confirmed that a complaint was filed at noon before the High Court of Catalonia, despite the refusal of the Catalonian tax.
Authorities of the autonomous region previously warned that such a step will push more to the separation of the region of northern Spain.
Artur Mas felt that the decision is highly disappointing and felt sad that react well to the expression of opinion by the Catalan people the polls.
The vice president Ortega, meanwhile, described the policy decision of the Attorney General. "It's a big mistake, increasingly push us out of Spain ', said in a statement to reporters.
Attorney General Eduardo Torres-Dulce this week received support from 23 of the 25 members of the board of prosecutors to file the lawsuit.
Recommended Reading :
* Spain fils suit against Catalonia head over secession vote
* Catalonia's independence push risks real estate revival