Rajoy seeks to finalize anti-terrorist agreement with PSOE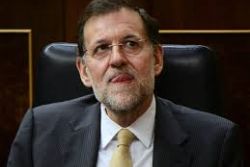 PM Mariano Rajoy and Socialist leader Pedro Sánchez sought on Friday to hammer out the last details of a new cross-party anti-terrorist agreement.
The deal being drafted by the government and the opposition will extend beyond the national arena to connect with European and international cooperation agreements on the issue, said sources in the ruling PP and opposition PSOE.
Those in the Sánchez camp were hoping that each side would make some last-minute concessions in order to obtain a document satisfactory to both parties.
The country's two main political forces are designing new legislation to address international terrorism and, more specifically, terrorist activities carried out by radical Islamists, in keeping with new global security trends.
Among other things, the new law will punish the recruitment and training of future combatants – something that has been taking place on Spanish territory, especially in the North African exclave cities of Ceuta and Melilla. This would make it possible to jail individuals who travel for jihadist training.
The anti-terrorism initiative was originally part of the PP's broader penal code reform project, but was pulled out for fast-track passage while the rest of the amendments get debated.
The fact that the PP wants to introduce life sentences for certain crimes in the new code became a major sticking point, as the Socialists judge this penalty excessively harsh.
But in order to save the bipartisan agreement, the opposition has accepted a revised text that makes reference to "the maximum penalty" without calling it a life sentence. The Socialists trust that before any convict reaches the current incarceration limit – 30 to 40 years, depending on the crime – it will have returned to power and revoked the PP's tougher rules.
Recommended Reading :
* Islamisation "Stronger in Spain than Germany"
* PP and PSOE to draft joint terror law