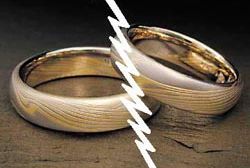 It is only relatively recently that Divorce has been legal in Spain, and even now it is not an easy path for troubled relationships to persue. In many cases divorce is so expensive and such a legal minefield, that there are still many unhappy couples who continue to co-exist under the same roof even though they would prefer to separate. The Spanish Government and the legal system in Spain have been slowly making changes to legislation which should make it easier in than it has been in the past.
Up until the last few years the system has required that two separate legal proceedings take place : one to confirm separation (which can sometimes take about a year) and another to finalise the divorce (which takes another year). This carries the problem that it carries two sets of Legal costs. Additionally this system required one of the Parties to be proven to be the 'Guilty Party' or to have left the Marital home for longer than a 6 Month period.
This new law stops this drawn out double proceedure, and makes it possible for couples to go straight to the Divorce Court without the seperation process. A legal separation is still possible, but only to those who wish to take that intermediary route for whatever reason. As long as both partners agree to the separation, and have been married for at least 3 months, they can obtain their divorce in just two months. If one of the partners does not agree to the divorce, then the divorce still must be granted – under the new law – but it will take up to six months.
Unlike the old divorce law, the new law does not require a couple to give any justification whatsoever in order to obtain the divorce, and nobody needs to be proven as 'The Guilty Party' which, for many Spaniards, this is what makes the new law the better.
Divorce of Non-Spanish nationals is possible providing both parties are legally resident in Spain and the couple have been married for more than 1 year.
It is a much easier process to get this done in the UK - neither party needs to appear in court in person and a divorce can usually be granted in as little as 16 weeks, however, this is dependant upon both parties being domiciled in the UK.
Under certain circumstances a Lawyer may be successful in naming the UK as your home country (for legal,if not residential purposes), but Tumbit always recommends that you speak with a Lawyer who is experienced with issues concerning divorce of expatriates before persuing this path.