Solar Contributed Under 7% Of Spain's Electricity This Summer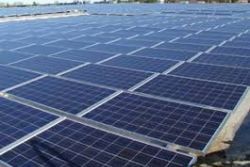 Solar energy accounted for just 6.77% of Spain's electricity generation mix during the months of June, July, and August of this year, according to the latest data from Red Eléctrica de España (REE). This figure includes both solar photovoltaic (PV) generation (3.87%) and solar thermal generation (2.9%).
Those figures are down notably from where they stood last year (in 2014, they were 8.23%), largely as a result of recent and upcoming "anti-solar" legislative actions.
Altogether, the period of January through August 2015 saw the country's electricity generation mix broken down thusly: nuclear power took a 21.6% share of the market; wind energy took a 19.6% share; coal-fired plants tools a 19.1% share; hydroelectric took a 12.3% share; co-generation technologies took a 10.1% share; combined-cycle gas facilities took a 9.7% share; solar PV took a 3.3% share; solar thermal took a 2.5% share; and the other 1.8% share was made up mostly of other thermal generation means.
As referenced above, the proposed "sun tax" in Spain will (if approved) means that solar PV system owners will be taxed (to a great degree) for the electricity produced even if it isn't fed into the grid. They would be taxed for self-production and self-consumption, in other words. Unsurprisingly, this proposal has generated a fair amount of backlash, and also put a damper on distributed solar growth.
Notably, the opposition parties in the country have come out against the proposal.
Recommended Reading :
* Spain to tax consumers who store their own renewable energy
* Taxes, fees : Spain's battle between utilities and Solar