Euro zone January unemployment at lowest rate since August 2011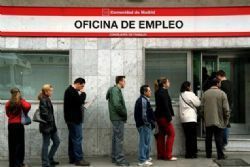 Euro zone unemployment dipped for a third consecutive month in January, against market expectations of an unchanged reading, dropping to its lowest level since August 2011.
The EU statistics agency Eurostat reported on Tuesday that the jobless rate in January was 10.3%, from 10.4% in December 2015.
The average expectation in a Reuters poll of 44 economists was for an unchanged reading, with forecasts ranging from 10.2 to 10.5%.
Euro zone unemployment, a lagging economic indicator, peaked at 12.1% in the first half of 2013.
Eurostat estimated that 16.647 million people were unemployed in the euro area in January and 21.789 million in the EU's 28 members.
That represented decreases of respectively 105,000 and 163,000 from December 2015 and of 1.445 million and 2.034 million from a year earlier.
The unemployment rate fell in 24 member states, was stable in Estonia while increasing in Latvia, Austria and Finland. The largest decreases were in Spain, Slovakia, Ireland and Portugal.
Recommended Reading :
* Robust spending gives momentum to Spain's recovery
* New business in Spain rises by 0.5% in 2015