Murcia appoints team to guard Corvera Airport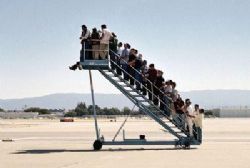 The Minister of Public works for the Region of Murcia, Francisco Saura, issued a press release last week confirming that a new team of Security Guards had been appointed to oversee Corvera Airport until such a time as the facility can become operational.
This follows news last week that the Supreme Court had officially and legally recognised the region as the rightful owners of Corvera Airport, and instructed Aeromur - the former concession holder - to 'hand the keys over'.
However, the press release confirmed that the Security Gaurds would not be permitted to carry weapons, undertake patrols or detain anyone found trespassing on the property - simply to monitor hi-tech surveillance equipment.
Recommended Reading :
* Aeromur refuses to hand back Corvera Airport keys
* Former Corvera Airport concessionaire must pay Murcia commission