Spain's Jazztel to increase fibre speed to 300Mbps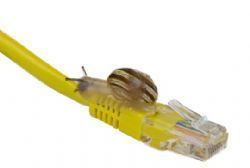 Spanish operator Jazztel, now an Orange brand, will increase the top speed of its premium fibre offer from 200Mbps to a symmetric 300Mbps connection starting in May, reports website ADSL Zone.
The move follows the news that Jazztel is set to hike the fee payable by all subscribers to its convergent packages from EUR 20.99 to EUR 22.99 in exchange for improved services.
Subscribers to a 30Mbps download and 5Mbps upload service will see their connection increased to a symmetric 50Mbps service, while those that had a 200Mbps will now get 300Mbps. Jazztel was the first Spanish operator to raise the speed of its fibre-optic service to 200Mbps download and upload back in January 2014.
Recommended Reading :
* Spanish Union welcomes Vodafone Spain Telefonica Fibre deal
* Spain poised to enter Broadband top 20 club