Spain to head EU mission against human smuggling in Mediterranean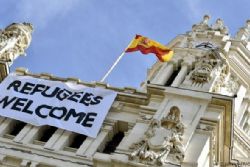 For the first time, Spain will lead the naval effort of the European Union's Operation Sophia, which fights human smuggling in the Mediterranean, diplomatic and military sources have said.
Spain will head the effort between September and December of this year at the request of Italy, which has been in charge of the operation since it was set up in 2015.
The Spanish Navy plans to send the Cantabria replenishment oiler to lead operations under the orders of a Spanish admiral. The move comes after Italy asked all 25 participating countries to contribute a command ship to take over its own naval units. Spain was the only country that responded to the request.
To date, Spain contributed a frigate and a patrol aircraft to the counter human-trafficking effort, at a cost of €67 million in 2016.
The Spanish Defense Ministry is aiming to maintain the current contingent of 254 troops and change the naval unit from the Canarias frigate to the Cantabria replenishment ship.
Although Spain will have command of naval operations, Operation Sophia's top overall commander will remain Italy's Admiral Enrico Credendino, who is based in Rome.
Ever since its inception in 2015, the five ships and six aircraft involved in Eunavfor Med operation Sophia have rescued more than 36,000 people, taken 440 vessels used for human smuggling out of action and arrested 109 people smugglers.
But these efforts have not stopped the central Mediterranean from replacing the Aegean Sea as the main route into Europe for immigrants and refugees.
Between January and April of this year, 37,200 people arrived on the coast of Italy, a 33% rise from the same period in 2016, according to Frontex, the European border agency. An estimated 1,600 people died during the journey.
Diplomatic sources admitted that Operation Sophia has a limited impact on the effort to stem the flow of illegal immigration. These sources noted that the mission has not even managed to complete the second of four phases set out in its operating plan.
Part of the problem is that in order to act in Libyan waters, the EU should have a petition from Libyan authorities or a resolution from the UN Security Council. But the government in Tripoli – the only one that is internationally recognized – barely controls just a small portion of the country, making it difficult for the EU to access the Libyan coastline and confiscate the boats used for human smuggling. This can only be done after the vessels leave Libya's territorial waters.
Recommended Reading :
* Two weeks into 2017, Mediterranean migrant deaths rise on last year
* Spain rescues 177 migrants off southern coast