Director of Corvera Airport Quits Job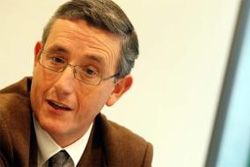 The President of the Region of Murcia, Ramón Luis Valcárcel, declined to comment on the departure of the Director of Corvera International airport, Mariano Menor, Yesterday.
Valcárcel refused to discus the issue with the media, stating how "the decision does not affect the government", and that they "internal matters involving a private company (which manages the airport) where I have nothing to enter," said regional president. "It would be inappropriate," he added.
Earlier this week 'la Verdad' this week that the airport has still not signed any contracts with airlines, to service the airport - something which has raised alarms in the region.
At a press conference yesterday the President tried to reassure the public : "My concern is that the airport is built", but also that "we are working toward commercial matters". Valcárcel also confirmed that Corvera International Airport is now officially recognised by the appropriate authorities and therefore able to legally open for business as an airport.
Mariano Menor left his position at the head of the company responsible for the running of the airport, Aeromur, due to discrepancies with the CEO, José Luis Gómez Sierra.
Last week Tumbit contacted the Press Office for a number of popular airlines, none of who had any immediate plans to fly to the airport when it opens for business in the spring of 2012.
With this in mind, is Corvera already doomed to become yet another of Spain's 'white elephant' airports.