Ryanair to cut routes at Alicante airport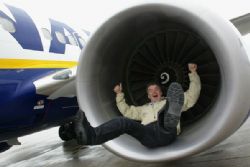 Ryanair has followed through on it's threat to AENA, and as from next November, will cut 22 of the 57 routes flying from Alicante's el Altet airport.
According to a report in yesterday's Información this would reduce Ryanair's presence at the airport by some 40%, and result in the the loss of 2.5 million tourists to the province.
Routes thought to be on the list for elimination are Zaragoza, Santander, Valladolid, Palma, Pisa, Venice, Paris, Poznan, and Fez or Marrakesh.
Back in March of this year the CEO of Ryanair, Michael O'Leary, first threatened to cease operations at new terminal at El Altet due to being denied permission for passengers to disembark the aeroplanes on foot, and that the usage of air bridges would be compulsory.
However, it would also reduce in a cost of 32 cents per passenger, which O'leary claimed would have to be met by the passenger.
Sources at the airport commented how it was usual for airlines to cut routes over the quiter winter months, and that routes remained in place for another 14 months.
That said, it can not be a coincidence that Ryanair executives met with representatives of Corvera International Airport, located less than 80km away and scheduled to be open next summer. The new airport at Corvera is to be privately operated by the regional government of Murcia and not AENA, who Ryanair have had several disagreements and court cases with of late.
A cynic may say that the closure of routes from November of next year allows Ryanair to retain a presence at El Altet, whilst negotiating a better deal with Corvera.