Corvera to Become Spain's First Privately Owned Publicly Run Airport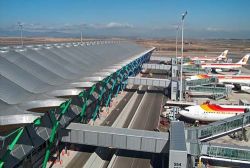 Spanish Airports Authority (AENA) and The Minsitry of Public Works have attracted criticism from the Unions for a lack of communication with workers at San Javier Airport in Murcia.
AENA and San Javier airport are currently in negotiations with regards to closing commercial flights from the airport in favour of the newer, regionally owned airport at nearby Corvera.
As compensation for closing San Javier airport, AENA have been offered a stake in Corvera, and will benefit the airport by bringing many of their staff and their expereince within the sector with them.
Many of the 90 AENA Employees at the airport only found out yesterday's news that AENA will manage operations at Corvera Airport, and that they may be able to reapply for their position at Corvera or any other AENA operated airport, by reading the newspaper on their coffee break.
"I guess we will respect the agreement," said Amparo Perez. "I don't want to work at Corvera, mainly because I live in Murcia, but if I have to I will because I need the job," says the worker.
The regional government spokesman, José Ballesta explained that that "the ultimate goal of the talks and meetings held between our president Valcárcel and the Ministry, is to keep the two major infrastructures operational within the region. On the one hand a large military airport in San Javier on the other hand a civil airport located in Corvera and open 24 hours a day. "