Air Europa Pilots Strike Starts Tomorrow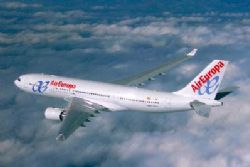 Air Europa pilots are due to strike tomorrow, Thursday 22nd september, which is due to take place every Monday and Thursday from now on, until resolution can be found, according to the Pilots Union, SEPLA.
The strike is believed to be supported by 96% of the 500 pilots currently employed by Air Europa, who are mainly protesting against cooperation arrangements between the airline and the Portuguese airline Orbest, which 'externalize' Air Europa services.
In December 2010, both airlines made a deal to share flights to Cancún, México and Punta Cana in Dominican Republic. Six months later, the companies made a similar arrangement for flights between the Canary Islands and the Iberian Peninsula. This last deal was reached without the trade union's approval.
The Spanish government has imposed minimum services for all strike dates, which require pilots to cover half of flights between mainland cities, as well as half the scheduled services between mainland airports and European cities, according to a statement on the airline's website. Flights to the Balearic and Canary Islands and transatlantic services will not be affected, it said.