Ryanair Reus Groundcrew Fight For Their Jobs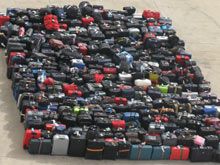 Rynair is currently in negotiations with Lesmo Handling, their ground service contractor, at Reus airport with regards to the future of of 20 permanent and 40 temporary staff members, who they intend to make redundant from the end of October, when the airline intends to pull out of Reus airport.
A meeting between Leson and CCOO union officials yesterday was unable to find any agreement, and the talks are due to continue today.
Earlier this year Ryanair announced that they would cease operations at the Airport on October 31 if the regional government would not support them financially in subsidising the 37 routes flown from the airport over the winter months. Ryanair has therefore ceased flying to the airport for the winter and it remains uncertain if operations will resume in the summer of next year.