Air Traffic Controllers Petition Against 'Parking System' at Barajas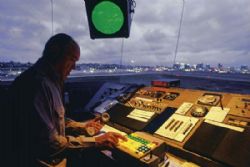 Spain's Air Traffic Controllers have made progress in their against AENA, with the Supreme Court yesterday admitting their petition which questions the Platform Management Service, due to be implemented in Barajas Airport on 17 November, which deals with the guidance of the aircraft around the airport once they have landed.
The news system will train 24 workers to replace between 15 and 25 controllers currently responsible for this task and which the International Civil Aviation Organization (ICAO) has also questioned on grounds on saftey.
The controllers are also concerned that the workers who are due to assume responsibility of this task are being given the minimum of training and have no real practical experience of managing the movement of aircraft on the ground.
The association points out that this system is not currentlly used in any other European airport, with the exception of Frankfurt, which has experienced a number of lengthy delays, according to data from Eurocontrol.
The Eurocontrol study concludes that the application of this new system "Will cause the increase of economic costs to companies, as well as severe damage to the citizens."
The move comes at as unions representing Air Traffic Controllers are currently undergoing a lengthy legal battle following their wildcat strike action last December. Compensation claimed by the 'Association of People Affected' is placed at 10'000 Euros for each of the 10'000 claimants : 100 Million Euros.