20 Spanish airports fly under 100k passengers annually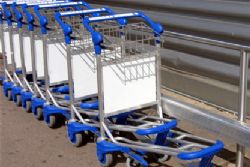 Spain now has the largest number of currently operational commercial airports in Europe which either fly internationally, or have aspirations to do so : 48 publicly operated and 2 privately operated airports.
Many of these have just a small number of fights, such as as Lleida (Catalonia), Cordoba (Andalusia) or Huesca (Aragon) with weeks - sometimes even months - between flights.
Perhaps more worryingly, the 2 private airports are not performing any better : Castellón (Valencia), officially opened in March, has yet to receive it´s first flight, and Ciudad Real (Castilla-La Mancha), opened in 2008, may close after it´s last scheduled flight arrived last month.
20 of the 50 airports currently receive less than 100,000 passengers per year, whereas 500,000 is considered the threshold to turn a profit, according to Germŕ Bel, an economist at the University of Barcelona. A small number of airports, he claims, might have some justification for remaining open in order that they can avoid isolation, for example the airports on the smaller of the Balearic or Canary Islands.
By comparison, the UK has 25 commercial airports, with Durham Tees Valley airport serving 226´000 passengers and Blackpool airport serving 235´000 passengers in 2010. The Penzance Helipad (Cornwall), whilst not a commercial airport, alone flies 89´000 passengers per year.
In particular, Huescar airport served 15 passengers in July, 0 in August, and 4 in September, kept alive mainly by the operation of private flights. The last commercial flight landed at the airport in April.
When Corvera airport (Murcia) becomes fully operational next year, it will hold the unique status of being owned by private company, Aeromur, yet managed by public company, AENA. It is to be hoped that the airport does not follow in the footsteps of other recently opened airports.