Immigrant dies in Spanish detention center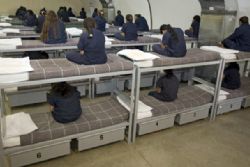 A 21-year-old man from Guinea died yesterday whilst being held at the Foreigners Detention Center (CIE) in Barcelona after reportedly suffering a heart attack.
The victim began suffering from chest pains shortly before midnight Thursday while other people at the CIE alerted authorities. According to the Catalonia chief of police, officers immediately helped the man and 15 minutes later a medical team arrived. However, other sub-Saharans who witnessed the incident said through their lawyers that the man was not given medical care at the center.
Over the past several weeks, the CIE centers in Madrid and Barcelona have come under fire from the courts as well as human rights activists for not have the necessary emergency personal on duty to tend to emergencies. Police officers acknowledged that there are no medical personal or interpreters on duty at night.