San Javier passenger numbers down 6.4 pct on 2010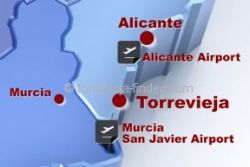 Murcia's San Javier airport processsed a total of 1,262,541 passengers in 2011, 6.4% less than in 2010. This contrasted with an average 6% increase seen in across Spain's other airports for the year, according to data released yesterday by AENA.
However, the fall in passengers numbers for the airport last month - December - was just 1.1%, reaching 28,753 passengers.
The number of flights operating to and from the airport in 2011 totalled 12'711 - 5.7% down on 2010, of which 11,180 were commercial (3'068 domestic and 8'112 international). In December the total figure was 495, of which 282 were domestic and 213 were international.
The only exception to this downward trend was commerical frieght, where the amount shipped in December reached 44 tonnes a 91.3% increase on December 2010.
By contrast, Alicante's El Altet airport finished 2011 with 9'913'764 passengers - an increase of 5.7% on 2010.
Although the action to cancel many routes at the airport by Ryanair was only announced at the begining of November, therefore the full effects perhaps not yet being realised, the airport remains optimistic that other airlines will be eager to take advantage of the business that Ryanair has turned their back on.
If the trend of growth of passenger numbers at El Altet is set to continue, together with decline at San Javier, it looks likely that Murcia's Corvera airport will have to work much harder to attract the 3 Million passengers that it is estimating it will process every year once operational.