Spanish Q1 passenger stats - by airline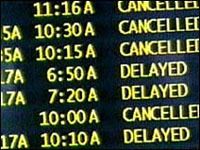 According to recent data supplied by AENA, Ryanair flew a total of 4,738,800 passengers to Spanish airports during the first quarter of 2012 - 292,000 less than the same period in 2011, representing a decrease of 5.8%.
However, despite these losses, Ryanair were still the largest airline operating in Spain, and saw a decrease less than their competition.
International Consolidated Airlines Group (IAG) flew a total of 3,965,900 passengers for the same period, between the company's Iberia and BA airlines, representing a 14.5% decrease on the same period last year. By Induvidual airline, Iberia lost 678'000 passsngers (-15.6%) whilst BA remained almost stable, gaining 0.1%. The creation of the group's Iberia Express airline on the 25th of March contributed 25'000 passengers in the closing days of the quarter.
Two other airlines with close links to Iberia, Vueling and Air Nostrum, managed to secure significant increase during Q1 : Vueling carried a total of 2,358,700 passengers to see an increase of 22.9% - 439,000 customers, whilst Air Nostrum carried 1,242,600 passengers up 23.8%, representing an increase of 239,000 passengers.
Meanwhile Easyjet carried 2,141,500 passengers, an increase of 1.7%, or 35,000 customers more than in the same period of 2011.