Castellon Airport 'as quiet as the Louvre at night'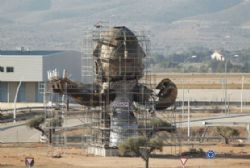 The Director of Castellon Airport , Juan Garcia Salas, has been quoted on a French TV station, where he was heard commenting that that facility was "as empty as the Louvre at night".
Reporters from the TV Station 'Gaul' were running a feature on the region of Valencia, where they accompanied other members of the media on a tour of the airport.
A journalist was heard raisng the question as to whether Castellon was indeed a "ghost airport", with the director replying that "The airport is as empty as the Louvre at night", but that "everything works but the permissions are missing."
The TV report also touches on the contraversial 300'000 Euro sculpture of the President of Aerocas, Carlos Fabra, which stands outside the airport.
The President of the Province of Castellon was also heard referring to the airport as being "absolutely necessary", and that he "Would take the same decision again - without the airport Castellon has no economic future".