Castellon Politician slams the "fatal incompetence" of Fabra for airport delays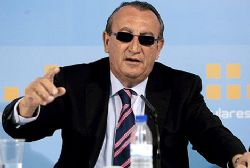 The deputy spokesman for National Executive of the PSPV for Castellon, Josep Gisbert, expressed the opinion today that the "main problem" faced by Castellon airport is the "fatal incompetence of Carlos Fabra", which has single-handedly caused the delay in the facility becoming operational.
According Gisbert, the former PP President of the Province of Castellon and current President of Aeromur - the company behind the private airport - is alone responsible for the delays, broken promises and incompetence witnessed at the airport since it first "opened" almost 18 months ago.
Gisbert also criticised Fabra for raising the hopes and expectations of local citizens, and in tarnishing the image of the province, causing irreperable damage to the reputation of Castellon's tourism industry.
Click >> HERE << for further news stories regarding Castellon airport.