Petrol prices increase 12pct since June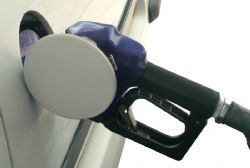 The cost of a liter of unleaded petrol broke the €1.5 barrier this week, while diesel has reached a new record high of €1.42 per liter.
Previous highs reached in April of 2012 stood at €1.498 per liter of unleaded and €1.399 per liter of diesel.
Oil Bulletin prices report an average cost of fuel taken across a number of petrol stations, but in some stations around the capital prices have reached as high as €1.53 per liter of unleased and €1.44 per liter of diesel.
Last week's prices now mean that unleaded has risen by around 12%, or €9 for a full tank, since the start of July and disel 8.5%, or €8 for a full tank. Sceptical road users argue that the price increase has been specifically introduced to coincide with the holiday month of August - the busiest month on Spanish roads when as many as 41 million car journeys will take place, according to the DGT.
Since the start of the year prices have increased by 16% and 10.5% respectively.
However, fuel prices are still below the EU average, with consumers fearing that this fact alone makes it likely that further increases may be considered.