Secondary Education Farce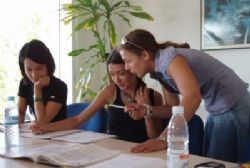 Secondary schools across the country are suffering from harsh new austerity rules and ultimately affecting students.
Under new rules issues by central government, class sizes have been increased, teaching roles reduced and supply teacher requirements slashed.
According to a report from the ministry of education, schools should expect to increase the size of classes by as much as a third meaning a class of 30 students can expect to be increased to as much as 40.
In addition, there will be no further resources to support the new class sizes and temporary cover from specialist supply teachers for period of sickness, maternity leave or prolonged absence is being covered by in house teachers with little or no subject experience up to a period of 15 days. In some cases, cover is not being requested there after, as schools attempt to reduce their budgets.
The Spanish education system is complicated at the best of times and for teachers even more so. Every teacher has to undergo a period supply teaching experience before landing a permanent role, in exceptional circumstances some will step immediately into a permanent role.
By now several thousand supply teachers would have been called in to cover classes, however most supply teachers have been left out in the cold and are frustrated as they were hoping to gain more experience this academic year and qualify for a permanent role.
Under the rules of being a supply teacher, they must be available at a moment's notice to cover, as a result, many supply teachers cannot seek alternative employment during this lull and being forced to sign on for unemployment.
Education chiefs have stated that its business as usual and class sizes have remained on average unchanged.