Irish Aviation Authority Absolve Ryanair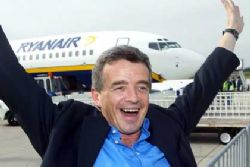 The Irish Aviation Authority (IAA) has today absolved Ryanair over three fuel emergency landings at Valencia airport earlier this year.
The Irish budget airline had come under the microscope by aviation safety officials in Spain and Ireland following the emergency landings and stood accused of gambling safety in favor of profit with tight refueling policies.
However, the report appears to backup the airline's claims that there was never any danger to passengers and all pilots involved had operated in accordance with EU Operational guidelines.
The IAA never publishes such reports, however, never one to miss an opportunity, the budget airline mogul and Chairman Michael O'Leary, immediately posted the report on the company's website along with a statement and inviting AESA, the Spanish Aviation Safety Authority, to their operations and training facility in Ireland.
The news will ease pressure on the airline who of late has been the subject of mass negative media coverage across Spain. A situation which was not helped by the airline declaring several more fuel emergencies at other Spanish airports along with a string of technical problems which developed during flight and ultimately resulting in emergency (mayday) or priority landings.
Ryanair have been critisised heavily over its fuel policy with many warning that operating with significantly tight fuel loads limits the options available for pilots and/or the time to think.
Pilots unions SEPLA and IALPA (Spanish and Irish respectively) have both criticised the airline over its fuel policy and Spanish Accident investigator Juan Carlos Lozano added "fuel" to the row by warning the airline is "operating on the very limits of legality".
The IAA report does recommend the airline should review its fuel policy and training program with particular emphasis on diversion management.
Transport officials from Spain and Ireland agreed, following a meeting in Dublin on Tuesday, to jointly investigate the airline over an emergency landing at Madrid-Barajas airport, en-route to Tenerife from Paris on September 16th 2012.
Read more news about Ryanair here .
Recommended Reading
• IAA Report - Ryanair Emergency Landings, Valencia (PDF Format)