No Seatbelt, No Compensation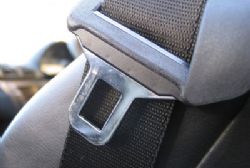 The Spanish Automobile Association, AEA, has warned that compensation could be denied for victims of road accidents who do not wear seatbelts.
The warning comes following a recent EU Court ruling where a passenger injured as a result of a car crash in Portugal had his appeal for compensation thrown out because he had not been wearing a seat belt.
The injured party filled a claim of €65,000 compensation against the insurance companies of the car he was travelling in and driver of the other vehicle after both vehicles collided. The injured party sustained deep cuts to his head and face after being thrown clear from the car he was travelling in.
A Portuguese court dismissed the claim on the grounds that he was partly responsible for his injuries because he was not wearing his seatbelt and thus contravened Portuguese traffic law.
Believing the ruling was Anti-European which contravened EU directives on the protection of victims of traffic accidents, he decided to pursue a review of the case in the EU Courts of Justice who also dismissed his claim and upheld the Portuguese court ruling.
Mario Renaldo, president of AEA, said "the same thing could happen in Spain, because Spanish road traffic law relating to personal injury exonerates responsibility when it can be proven that the injuries were solely the result of the behaviour or negligence of the victim".