AVE Train ticket prices reduced from Jan 2013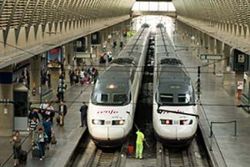 Spain's Minister for Development, Ana Pastor, has announced that the cost of AVE High-Speed Train tickets will be reduced from the start of the new year.
"The AVE is quick and effective, but many people don't use it because ticket prices are too high", the Minister explained, adding that ticket prices would be reduced from the start of January 2013, as a new ticket pricing procedure would be introduced in order to make the country's railway service "more competetive".
Pastor also went on to acknowledge that many Towns and Cities in Spain are still without access to the AVE High Speed Railway network, and that the Government is working towards this goal "but without waste or gargantuan measures".
Whilst this is undoubtedly good news for those who regularly commute or travel long distances, the question must also be asked "Are the new 'Competetive' prices going to take business away from the country's toll roads ?" If this is likely to be the case, then the vicious circle of falling toll-road users instigating higher toll fees can only continue.