2.5 Million to travel through Spain's Airports this weekend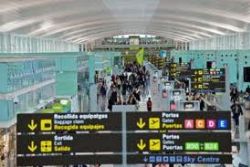 The Spanish Airports Authority - AENA - has reported how more than 2.5 Million passengers are expected to pass through their network of airports over the extended Bank Holiday weekend period.
Between Friday and Tuesday of next week a total of 26,232 flights have been scheduled.
The busiest Airport over the New Year will be Madrid-Barajas where a total of 3,867 flights have been scheduled, and where 630,000 passengers will be processed.
Barcelona-El Prat will be the 2nd busiest Airport with 2'941 scheduled flights and 500,000 passengers.
Each Airport Induvidually, and the network as a whole, reported that Friday 28th was expected to be the busiest day for travelling over the new year holiday period.