Madrid protests over privatisation of healthcare services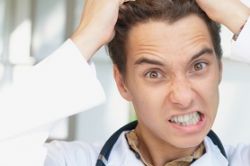 Angry Healthcare workers and residents united to march in protest against cuts to the public health system in Madrid this afternoon.
The Regional Government - who like other Autonomous Regions of Spain, is reponsible for it's own Healthcare budget - has responded to calls for further austerity measures from the central government by planning to privatise certain area of public health.
Of Madrid's 20 Public Hospitals, 6 are under consideration of being privatised, together with around 10% of the region's Health Centers.
On Friday the 28th of December the Regional Assembly of Madrid voted to approve the "Fiscal and Administrative Measures Law", which agreed to put the parcel of services out to tender, with an absolute majority of 72 votes.
The legislation also approved a new and controversial supplementary charge of one euro for each prescription issued.
The Regional Government maintains that the privatisation of certain services is an essential measure in order to reach deficit targets.