Spain hosts 1 million more tourists in 2012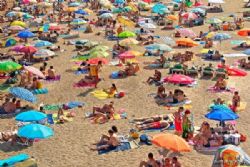 Spain hosted 1.2 million more foreign tourists in 2012 than the previous year, the government said on Wednesday, thanks to more visitors from emerging markets like Russia and Brazil, political unrest in North Africa and a relatively weak euro.
Tourism accounts for approx 11% of GDP in the euro zone's 4th-largest economy and is one of the few areas of growth in a country blighted by a severe recession and 26% unemployment.
Domestic tourism remained steady in 2012 from the year-ago period.
"2012 has been a good year ... and the number of tourists, spending and overnight stays will also increase in 2013," said Industry Minister Jose Manuel Soria.
Just under 58 million international tourists visited Spain in 2012, and they spent 6% more there than the previous year at €56 billion - nearly €1,000 per person.
More Germans and French visited, and the number of Russian tourists jumped 41% from 2011 figures.
Spain is one of the world's top tourist destinations, although it was ousted from its No. 3 ranking for international arrivals in 2010 by China.
The number of 2012 tourists visiting Spain in 2012 is roughly comparable to the entire population of Italy.