Murcia's PSOE slam Corvera Airport delays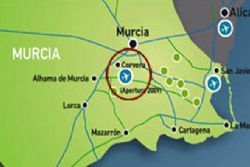 The General Secretary of the PSOE Socialist opposition party for the region of Murcia, Rafael González Tovar, has criticised President Valcarcel for his constant reassurances that Corvera Airport will be open this summer.
Tovar reminded members of Spain's press that the people of Murcia have now been waiting for a new airport for 2 years "First, it was to open in 2011, then Easter last year, then Autumn, and now he expects us to believe that it will open this year". He went on to say how "There are too many details still to finalise after a year of PP Government,".
The Socialist agreed that the facility would be good for the region, but distrusts all promises that the airport will be operational this year.
With regards to the transfer of workers from San Javier Airport, Tovar said the 430 employees are still battling with uncertainty as to whether the smaller airport will actually close, and when Corvera will open.
Last week Tumbit examined evidence which could suggest that Murcia's San Javier Airport may actually never close .