Cyprus Euro exit "Not on the table" : De Guindos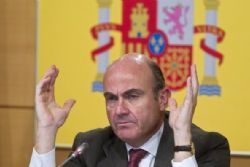 The possibility of Cyprus exiting from the euro zone is not under consideration, Spain's Economy Minister Luis de Guindos said on Tuesday.
Speaking to journalists in the hallways of the upper house of Parliament, de Guindos also said bank deposits under €100,000 in Europe should not be touched
"Deposits under €100,000 are sacred ... and must have a (tax) rate of zero," de Guindos said.
Under the terms of this weekends bailout offer by the Eurozone to save the Cypriot banking sector, deposits of up to €100,000 would be subject to a tax of 6.7%, while amounts above that sum would carry a levy of 9.9%. The Cypriot government on Monday postponed a vote on the rescue plan as moves were underfoot to seek to ease the terms. There were reports that the Cypriot government is looking to reduce the levy for deposits of under €100,000 to 2% - something which is still unacceptable to many residents of the Island.