"Spain has a long way to go" : Former Secretary for Economy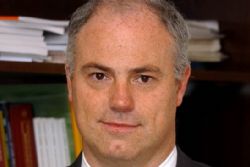 Spain's former Secretary of State for the Economy has commented how the Country is faced with a long road to recovery.
Despite appearing to be over the worst of the financial crisis, Jose Manuel Campa told Chinese News Agency Xinhua how Spain's PP-led Government needs to be careful not to stifle any growth of the economy by imposing further taxes.
The Bank of Spain confirmed how the Country's Economy contracted by 0.5% in Q1 of 2013, with estimates that it will contract by 1.4 - 1.7 % over the remainder of the year.
"My perception is that we have a dual economy," the former Secretary commented, who said Spain's export market was performing well, though internal demand continues to fall.
"We have half of the economy which is medium and large enterprises which are linked to the global markets and are exporting a lot and which are doing fairly well and contributing to growth and we have the other part of the economy oriented to the internal demand," he continued, explaining that weak internal demand is the problem as the government continues with its structural reforms and attempts at fiscal consolidation.
However, Campa expected positive news by the end of the year "Investment in manufacturing will pick up and that will help to compensate the negative aspect of the fiscal consolidation, so will see some positive growth, hopefully in Q4 of the year," he said.
Earlier this week the EU eased pressure on Spain by setting a deficit target of 6.5% of GDP for 2013 - 0.2% higher than the original target for 2012, which should allow the government some flexibility in their reform measures.
"I think that in the short term, there will not be such an impact on growth by the fiscal consolidation," said Campa, before cautioning "we should not be misled into the fact that we need to engage in some fiscal consolidation in the mid-term to help bring our primary deficit down."
Campa also predicetd that Spain's banking system would stabilize after last year's problems caused by overexposure to toxic assets in the construction sector : "The adjustments and the recapitalization that took place last year means the excesses of the real estate boom and bust of the past have been dealt with appropriately," he said.