Spanish FM to address parliament over Gibraltar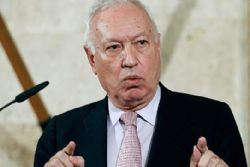 Spanish Foreign Minister Jose Manuel Garcia-Margallo is face questions in Parliament on the latest dispute over Gibraltar on September 3rd.
Tensions between London and Madrid escalated following Gibraltar's construction of an artificial reef, which Spain says affects its fishermen.
In retaliation, Spanish police enforced border control checks on cars entering Gibraltar citing the need to prevent smuggling of contraband into Spain, creating massive tailbacks.
Margallo said yesterday how Spain would continue to implement the control measures in order to fight against crimes including smuggling of contrabands, and money laundering. The minister explained how current "measures are more intense because the relationship of trust with Gibraltar's authorities is broken," but in case the relationship is reestablished again, border controls will be "less burdensome."
The European Commission has decided earlier this month to send a "fact-finding mission" to Gibraltar to investigate the border checks.
Meanwhile Spanish police will also continue to monitor if Gibraltar authorities had dumped more concrete blocks into the sea.
Recommended Reading
• Spanish FM writes controversial article