Spain Train Crash : 3D Animation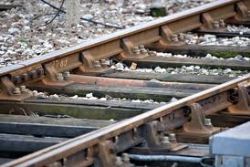 3D Modeller Peter Olsen has used various technologies, including Google Earth, to create a detailed 3D animation of the Santiago de Compostela train crash.
The crash, which took place in Galicia, North-Westen Spain on the evening of 24th of July claimed 79 lives and left dozens more seriously injured - many of who are still in Hospital.
The animation also uses exact dimensions of the train and it's carriages, as specified by TALGO, to depict an accurate second-by-second analysis of how the crash happened, and gives an insight into the extent of the damage.
The animated clip also suggests that the third carriage was traveling at speeds of 158 kmh when it struck the concrete barrier, whilst the fifth carriage was traveling at 140kmh when it was torn apart by the impact.
The speed limit enforced at the notorious curve was just 80kmh.
How can a train Driver in good conscience claim "Distraction" as his defence for traveling at twice the permitted speed limit - especially when he had previous knowledge of the dangerous nature of the approach to the station ?