Spain to present 2014 budget later today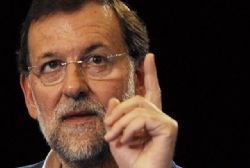 Spain will boost economic and job forecasts in the 2014 budget to be presented on Friday, moving away from tough spending cuts and relying instead on lower borrowing costs and momentum from previous reforms to achieve fiscal targets.
PM Mariano Rajoy, almost half-way through his term of office, is hoping that after 2 years of painful spending cuts the relatively benign budget will persuade disgruntled Spaniards that the worst of the crisis is behind them.
Also, the government is counting on a nascent economic recovery - after 2 years of recession - to pave the way for tax cuts before the 2015 election.
The budget will be based on a projection of 2014 economic growth of 0.7%, up from an earlier forecast of 0.5%. The unemployment outlook is also set to be revised down slightly from the 26.7% previously expected, although it will remain one of the highest in the euro zone.
Deficit numbers, the most watched in previous years, will give no surprise this time as they have been previously agreed with Europe. Spain will next year seek to reduce its budget gap to 5.8% of GDP from the 6.5% expected in 2013.
That leaves the government with less than €8 billion to find to square the budget circle, a goal that should be hit thanks to lower interest rates, a new freeze in civil servants wages, announced on Thursday, and a long-awaited reform of public pensions also due for Friday.
Rajoy and Economy Minister Luis de Guindos have said repeatedly that there would be no additional spending cuts or tax hikes passed this year or next, although they have pledged to present a wide-ranging tax reform in the spring.
Spain's premier, whose popularity has been brought low by his handling of the crisis and corruption scandals at his Partido Popular, must convince the EU that he is in a position to implement the promised reforms.
In November, in one of the most far-reaching responses to the region's debt crisis, the EU's executive will for the first time review the budget plans of the 17 euro zone countries before they are adopted by national parliaments.
The new rule has already raised eyebrows in France, which also passed its budget this week, although Brussels and Paris played down any tension on Thursday.