Aerocas Meet to Finalise Castellon Airport Sale Monday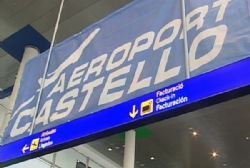 The process to bring Castellon Airport into operation has now entered it's final phase according to Vice President of the Generalitat Valenciana, Jose Ciscar.
Ciscar, who is also spokesman for the Generalitat and President of Aerocas, also confirmed that the final contract with Canadian Group SNC-Lavalin for the operation and management of the airport is expected to take place "immediately".
SNC-Lavalin has already submitted all the required documentation and met the conditions required by the concession holder of the airport.
On Monday the board of Aerocas is due to meet in order to finalise all details before the contract can be drawn up and signed.
Ciscar confirmed that SNC-Lavalin is a financially viable company, managing airports on 4 continents, and with an extensive experience in airport infrastructure,construction and management. The group will now work towards the completion of the final phase of certification, with a view to flights commencing as quickly as possible.
Further Reading :
* Canadian Company New Operator of Castellon Airport