Ciudad Real Airport Administrators Lower Price & Extend Deadline... Again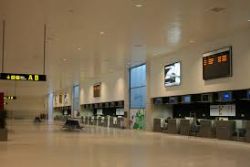 Administrators of the former privately owned Ciudad Real airport have lowered the asking price for the sale of the bankrupt facility to EU80 Mln.
Despite a total of seven failed attempts at selling the airport, the process began in December of 2013 when offers of more than EU100 Mln were invited, with the deadline being extended each time bids were not forthcoming.
Last week the Commercial Court of Ciudad Real approved the lowering of the asking price from EU90 Mln to EU80 Mln in order to attract further interested parties for a period of 2 months.
The former owners of Spain's first privately owned airport filed for Bankruptcy over 4 years ago after having invested some EU410 Mln in the facility.
Ciudad Real Airport - also known as Don Quixote Airport - is located 200 km south of Madrid and initially intended as a "hub" alternative to the airlines, who wanted to offer new routes near the Spanish capital. However, the city of just 75,000 could only attract 100,000 passengers during it's first 3 years of operation, causing econoic troubles ahead of the airport closing in 2012.
Read the entire archive of Ciudad Real Airport News by clicking the link > HERE <