Canada supplies Ebola treatment to Spain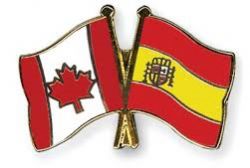 Canada has supplied small amounts of an experimental Ebola treatment to Spain and Norway to treat infected healthcare workers, the Public Health Agency of Canada said on Wednesday.
The agency's National Microbiology Laboratory in Winnipeg, Manitoba transferred the treatment ZMAb to Spain in September and to Norway this month, at the request of the countries, spokesman Robert Cyrenne said. The treatment is laboratory grade, meaning it was made for use on animals.
A nurse remained seriously ill this week after catching the virus in Madrid while caring for infected patients. A Norwegian healthcare worker working for Doctors Without Borders in Sierra Leone was infected and brought home for treatment, the organization said last week.
At least 4,447 people have died in West Africa in the worst Ebola outbreak on record.
ZMAb is a monoclonal antibody treatment designed to find, attach and coat the Ebola virus, preventing it from multiplying within the body.
The treatment is a precursor to ZMapp, which Canada licensed to California-based Mapp Biopharmaceutical Inc. ZMapp was used this summer to treat two American aid workers, who recovered.
Another experimental drug developed in Canada by Tekmira Pharmaceuticals Corp was used last month on an infected U.S. medical missionary, who also recovered.
The Public Health Agency sent enough ZMAb for Spain and Norway to each treat one person and plans to keep all remaining inventory in Canada for research or possible domestic use.
Meanwhile, the World Health Organization has not yet received Canada's donation of 800 doses of an experimental Ebola vaccine. Cyrenne and WHO spokeswoman Nyka Alexander could not immediately say when Canada would ship the vaccine to WHO in Geneva.
Phase 1 clinical trials of the vaccine on a small group of people are underway in the United States, with results expected in December. Canada has licensed the commercial rights to the vaccine to NewLink Genetics Corp.
Recommended Reading :
* Spain claims Ebola outbreak under control