Spanish Authorities beat asylum seeker unconscious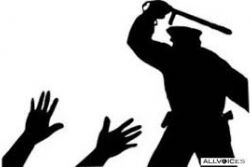 Spanish authorities have been criticized following the release of a video showing Melilla border guards beating an illegal migrant unconscious before sending him back to Morocco.
The Video of the incident, which happened earlier this week, was also posted to Youtube.
Some 300 sub-Saharan asylum seekers attempted to cross into the Spanish enclave, by scaling the 6mt high, triple-layer fence separating it from Morocco.
The clip of the incident, released by the Prodein human rights group shows the Guardia Civil officers as they try to force a group of would-be illegal immigrants down from their positions on top of the fence.
As one of them attempts to climb down a ladder provided by police, he is repeatedly hit by policemen with batons and eventually falls unconscious from the ladder to the floor.
The Guardia are then shown dragging the young man to a nearby road, where a passing Ambulance drives by, before Police hand the still-unconscious victim back to Moroccan authorities.
The Human Rights group argued that the Spanish authorities had a legal obligation to ensure that the illegal immigrant received medical attention : "This guy got injured in Spain and might have had a concussion; therefore he was not to be moved....Instead they carried him as if it was a pig, an animal".
Prior to release of the footage, the Spanish government said 5 police officers and 5 migrants were injured in clashes at the border fence.
Spain's Ministry of the Interior, however, went one step further and accused the asylum seekers of "acting with unusual violence" and that many of the would-be immigrants were armed with sticks and knives.
Recommended Reading :
* Spain's Rajoy urges EU to toughen up on illegal migration
* More than 1,000 would-be immigrants attempt Melilla fence-jump