Podemos most popular party in Spain: Poll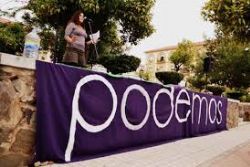 With a year to go until the next general election in Spain, a newspaper opinion poll shows the country's recently created political party Podemos ("We Can") would be the winner if the election was to be held now.
According to the poll published in El Mundo, undertaken by the consultancy group Sigma Dos, Podemos would now win 28.3% of the votes, beating the ruling Partido Popular of Mariano Rajoy.
The PP came second with 26.3% of the votes, almost 18% less than their votes in the general election of November 2011.
Podemos, a populist left wing party led by lawyer Pablo Iglesias, was founded in February. It stunned observers when it took 5 seats in the Elections for the European Parliament in May after polling 1.2 million votes with 7.9% of the votes cast.
Despite Pedro Sanchez, the new leader of the PSOE, being one of the most popular politician, votes going to the PSOE continue to decline. According to El Mundo, the Party will win 20.1% of the vote, compared with the 29% votes it obtained 3 years ago.
The PSOE have lost votes to Podemos, while other parties such as the United Left (Izquierda Unida) and the center-right Union Progress and Democracy (UPyD) have also seen voters switch to the new party. Podemos has benefited from recent corruption scandals affecting the PP, PSOE and IU. IU would now poll just 4.2% of the vote, with the UPyD 4.5%.
A poll published simultaneously by the Catalan newspaper "El Periodico de Cataluna,' shows Podemos is also the major force in that region of Spain, polling 22.8% of the votes. It came ahead of the Catalan nationalist parties Republican Left and Convergence and Union, which respectively would take 15.3% and 17.2% of the votes in a general election.
Recommended Reading :
* Podemos Manifesto 'coming soon'
* Nov 20th 2011 : Flashback to Rajoys first address as PM