Rajoy to declare new anti-corruption law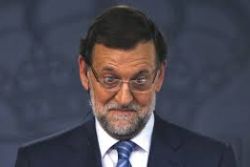 Later on Thursday Spanish PM Mariano Rajoy will present a new law to clarify political party accounting rules, less than 24 hours after the resignation of his Minister of Health over yet another corruption scandal.
Health minister Ana Mato resigned on Wednesday Evening after being linked to the scandal involving an alleged kickback scheme at the heart of the Partido Popular administration.
Her resignation was accepted by the PM, whose government has been embarrassed by the court investigation into illegal payments for public contracts, the latest in a string of graft cases that has outraged most of the electorate.
"I have decided to present my resignation," Mato said in a statement, adding that she was stepping down for the good of the government and the party.
Mato has not been named as an official suspect in the corruption case but the investigating judge commented she had "benefited from" holidays, cash payments and other gifts when she was married to Jesus Sepulveda, a former PP mayor of a Madrid suburb.
The bribes-for-contracts scheme, known as the "Gurtel" case, allegedly extended to 6 regional PP administration and operated between 1999 and 2009, when the investigation began.
High Court judge Pablo Ruz said he had evidence to try 43 people for corruption, including Sepulveda and 3 former party treasurers.
Spanish media have reported that businessmen paid for designer goods, first communion celebrations and even clowns and confetti for children's birthday parties for Mato and her daughter in exchange for kickbacks.
The 55 year old former Minister could also be called to testify in the case.
Mato lost popularity with the public after being criticised for her handling of the case of the so-called 'Ebola Nurse' last month.
A spokesman for the PSOE, which had called for Mato's resignation, said the move showed an admission of guilt.
This investigation is one of a series of damaging graft scandals in Spain that have involved politicians of all political stripes, businesses, football clubs and even the king's sister.
Rajoy has promised reforms to stamp out corruption and is this morning due to announce a new law aimed at tightening political party financial accounting rules.
In 2013, the PM resisted calls for his resignation over allegations of undeclared payments to PP party members.
With the country set to go to the polls for a general election in 2015, corruption is the biggest concern for Spaniards after unemployment, according to a recent poll by the Centre for Sociological Investigations.
Recommended Reading :
* Spain's Health Minister Resigns
* Rajoy's anti-corruption measures : 2 years of nada
* Rajoy : "Sorry for Corruption"